When I first considered getting started in real estate investing, I felt a little confused and overwhelmed.  Where do I start?  How much money will I need, and where do I get it?  How do I find homes?  Who can I ask for some guidance, and how exactly will I make money?  I knew other people were doing it, and I was determined to make it happen.
Start Doing It
I talked to several people about it.  Some were buying homes, fixing them up and then selling them for a great profit.  Some of them were even doing it and not using any of their own money.  Others were very well versed in buying rental property, and said that was the way to go.  I was reading all kinds of articles about getting started in real estate investing and was soaking up some great information.  After several months, I found myself in a definite state of Analysis-Paralysis.  I didn't even realize it until I was talking to a good friend of mine who had been investing for several years.  I asked him what he thought I should do next.  He said "David, it's time to stop reading and start doing it.  Get out there and buy a house and create your own story.  You know what to do."  That was some of the best advice I have ever received.  I had read enough, and now it was time to take action and learn from experience.  I was still a little hesitant and had some fear of failure, but the truth is you really only fail if you quit.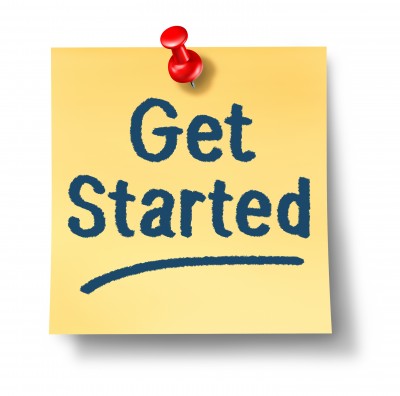 No Money to Start?
Even though I didn't have any funds to start, I really wanted to make this happen.  I had another friend who told me a few months before that he would help me in any way he could when I was ready to get started.  So, that week I borrowed $1,000 from him and used it to buy bandit signs, a mailing list and have some postcards made.  I went to work. I got a few calls, but no deals.  I started talking to some guys who were finding properties for other investors.  A few weeks later I put together my first deal.  It was a co-wholesale deal where another investor found a property, told me about it, and I had the perfect buyer.  I put the deal together with them and received half of the wholesale fee.  That allowed me to pay my friend back the $1,000, and gave me confidence that I could do this again.
I also had the opportunity to do my first flip a couple of months after that.  Even though I had continued my marketing efforts, my first flip actually came from that first postcard campaign I did almost three months before when my friend loaned me that $1,000 to get started.
One day I receive a phone call on my number I used for my postcard campaigns.  The voice on the other end said "Hello David, my name is John.  I received a postcard from you two or three months ago, and I would like to talk to you about buying my home."  I share the details of this deal in another blog, but it was my first flip deal, and I was super excited.  It took me four months to complete that deal, but I make a nice profit on it and the experience I gained was impossible to put a price on.
I share these stories because I know there are many people out there who were just like me.  So, if you are interested in getting started in real estate investing, just do it!
Here are 5 steps to get going:
Look into the different types of real estate investing and determine where you would like to start. Some of them take little to no money at all to do like wholesaling.  You can even flip properties with little to no money down.  If long term income is what you would like, then look into doing some buy and hold properties as rentals.  You may need a little more money to get into this, but you can get that by doing a few wholesale deals first and building up a little cash to get started.
Get a mentor or someone who can guide, encourage, and talk you through some of the details. There are all kinds of materials to watch and read out there to gain knowledge and insight into real estate investing, but having an experienced mentor to talk to and guide you through the process will make a huge difference.
Don't let fear, doubt, or over analysis of investing keep you from doing it. There is a lot of information out there.  There are also a lot of different opinions and view about what works best.  It's true that you need to be careful or you can end up losing money, but being so cautious and conservative that you never do it at all doesn't get you anywhere.
Learn about your funding options. There are all kinds of hard money lenders out there.  Some will offer better terms than others, and you can only find out what those are by reaching out and contacting them.  Remember to not only ask what the interest rate is, but LTV, points/fees upfront, # of months, and if there are any penalties or additional fees if you go longer.  There are also many private money options out there as well.
Go for it and learn from experience. Though I don't recommend jumping into real estate investing without taking the steps mentioned above, I don't want any of you reading this to do all of your homework and then not put it to use.  You can learn all you want about it, but you won't make any money until you actually do it.
Best of luck to all of you!  There is potential to make a lot of money in real estate investing and build a great passive income that could benefit you now, and for generations to come.  Stay tuned for more posts coming soon about wholesaling and flipping.
Reach David Schnepf at (480) 457-9227 or (480) 428-3290.  You can also email him at [email protected]
https://arizona.pressplayrealty.com/wp-content/uploads/sites/2/2016/11/get-started.jpg
396
400
Andrew Houglum
http://arizona.pressplayrealty.com/wp-content/uploads/sites/2/2016/03/wells-logo-white-80h-AZ.png
Andrew Houglum
2016-11-15 19:47:11
2016-11-15 14:43:40
Real Estate Investing - Where do I start?